Hey Everyone,
Very  happy to announce our very latest update to keep on top of the ever changing world of SEO.
Further to our recent Penguin Update providing a vast diversity of keywords in anchor text and the relase of our Penguin Repair Feature.
We have now gone full out and given our members the ability to create and own
Private Web 2 Social Blog Networks.
This is a graphical representation of what your new Private Network Looks like.
(Click on Image to see Larger version)
Here is the video demonstration.

Below shows how simple it is to create and promote your own Private Web2 Social Network. (Noting, lots of seo services are providing inferior quality networks for one or two URL's for the same price as our monthly membership, though with EVO PRO you can make and promote unlimited Private Web 2 Social Networks)
Phase 1.
Start EVO
Enter your main site URL/S
and RSS Feed.
Related keyword phrases.
Click on Generate button to generate the username for accounts created.
Main Keyword Phrase to target using spintax.
Select Web2 Pryramid Option CheckBox.
Select your static account (New users get this provided for free, all your
social accounts pre fabbed.)
Source related Unique Article content based on your Niche.
Then Under Tasks Select only Main Sites.
The software posts your own Unique articles, or unique UAW Articles from our DB
(which are spun on a Paragraph level) across all the web2 properties providing
links back to your money site within the articles. The software then posts the RSS
Feeds to these sites to the top RSS Aggregators. These Web2 properties are all
linked together sharing their authority between them as well as links to your
money site.
You have now created Your OWN Private Network of Web2 Properties That you can
access any time in EVO to send authority to, via all our High Page Rank High  Authority websites within EVO.
Save project, using a name so you know its a Mains Only campaign.
Time Investment = 5 mins.
Phase 2.
Start EVO
New Project/Load From Archive, select previous Mains only campaign.
Under Main Settings, we change the Main Anchor text to the exact phrase you are targeting without Jetspinning. We are sending link love using the exact keyword phrase you want your site to rank for to this blog network. These High PageRank High Authority Web 2 properties can withsand exact keyword phrases used and do not get any penalties and do not pass on any penalties, while providing a network based on "Your exact keyword Phrase" thus passing on this relevance to your site via the links inside this blog network.
Go through the wizard to the last tab and then select only
RSS Poster.
High PageRank Submission.
Wiki Submission.
Then click on "Start Job" Button
Time Investment = 3 mins.
EvO goes out and creates links pointing to this blog network from our database of High Page Rank High Authority sites. EVO then makes RSS Feeds from these new links created and posts them to the top RSS Aggregators on the web giving these links faster indexing and more authority and diversity.
Links are created on a vast diversity of site platforms including blogs, social sites, wikis and TLD's across a vast amount of countries and IP's from all over the entire planet.
Your Graphical Report shows all your links and which TLD they are on, and their PageRank.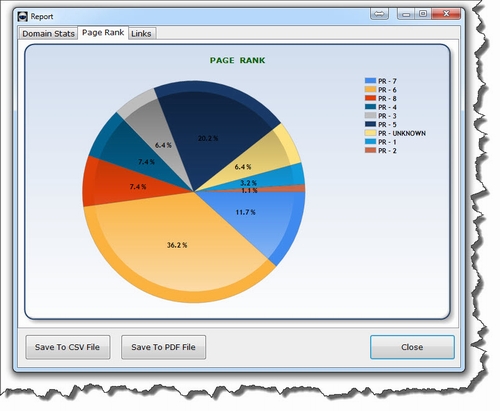 Repeat this every 2 days, sending tons of high powered exact phrase links to your blog network. Since your money site is removed from this process, you can send as many links as you like to this blog network.
To repeat, start EVO and do the exact same as above, takes no time at all and EVO will send quality links over and over in the background.
Obviously EVO PRO does a lot more than mentioned above, e.g. creates new individual accounts across all the sites it posts to. Solves captures along the way at our expense, confirms all emails created.
Does strategic linking between sites, all in the background while you focus on your business. EVO is the preferred software to use because of its ease of use and a high percentage of our members use VA's to operate it for them because its so easy to use. You do not need an experienced SEO VA, any VA can operate this software. If you need a VA, hit me up in the forum and we'll pass on access to Great VA's for you.
Update.
Just added 9 extremely high EDU wiki's into EVO PRO, on top of all the other HPR social sites.
As Per usual, you can test this out right now and see for yourself how simple it is to create these very powerful networks for Just $1 and keep them forever, even those made during your trial.
I'd like you to go right now to www.BruteForceSEO.com  and take the $1 trial that goes for 5 full days, in this time you could create and promote up to 15 of these on your single license, as a member you get an additional license to use the software on 2 computers, thus doubling the amount of work the software can do for you.
It really is that simple to use, we pride ourselves on producing the most user friendly SEO Software on the market and if you get stuck our friendly Support team are always there to help you out 🙂
Cheers
Peter Drew