Hey again,
2 Major Announcements, well more really, things
are cooking along so nicely over here these days,
awesome feedback coming in post penguin, lots of
old members returning in droves.
Very exciting times, talk about turning a negative
into a positive re penguin. Must be related to the
massive amount of work we've been putting into
our beloved EVO PRO software. Between myself
and my members we are experiencing maximum creativity
and turning this into software and seo results.
Our latest 2 additions
1. Updated our Private Web 2 High PR Hight Authority Networks.
2. Added Video Module.
Our members were delighted with one of our recent
updates, giving people the ability to create their
own Private Web 2 Social Networks.
So we've taken it one step further, and added unique
articles supplied by UAW to every Web2 Property in the
mix 🙂
Now when you download articles in EvO PRO, it downloads
2 for each of the Web2 Properties to be created in the
Private Network. Each of these articles are unique to you.
These are Spun on a Paragraph level and provide us
excellent results in the SERPS.
This is what one of my members wrote, before this update.
I have a number of customers that I build links for using
EVO exclusively & have been doing so for several years.
A few of them were negatively affected in the spring by the
Panda and/or Penguin updates. I continued to use EVO as
prescribed in the.pdf instructions, and each of the affected
sites have come back & are even stronger in the Giggle rankings now.
Also, I have a large personal site that I started building
links to about 8 weeks ago using EVO exclusively.
Several of the keyword phrases have made it to the front
page of Giggle, with several of those holding the
top several rankings on the front page.
Those that have not made the front page are steadily climbing in that direction.
URL to this exact Post http://bit.ly/NXi7y0
Here's the thing that most people don't realise POST
Penguin.
The competition is now decreasing. Why? people who
don't have access to information and tools that we
provide are overwhelmed with it all and giving up.
Which really just makes it Easier for people like
You and I.
I'm happy for those to continue with their Doom and
Gloom theories, because it just makes it easier for
US!!
You can test all the above right now for one buck 🙂
http://www.BruteForceSEO.com
Get it here
www.bruteforceseo.com/evo2pro.zip
In this Massive Update..
1. Now when you source articles for your project. EVO downloads 2 articles for each of the Web 2 Properties in our "Main Web 2 Authority sites"
Now EVO posts 2 unique articles from UAW to each of your web 2 properties and no duplicates across the network..
Right now there are 16 Main sites, that means EvO downloads 32 different articles to post across this network for you
2. Video Module. (in Beta)
Note there is a link to order the accounts. You must use this link to order these accounts. because they are created by one of my staff on the same IP as my server, so when the server logs in from this IP it is consistent etc.
The hardest part is copying and pasting the user/pass into the software. Once that's done you only need to copy and paste any youtube video URL into the software (must be under 2 mins) and the software/server combo does the rest.
Title of video is taken from :
Main Settings Tab|Main Keyword Phrase
Category is matched with Select Category from Main Settings Tab.
Video Description: Placed first is your MAIN URL, taken from Main Settings Tab. Then text taken from LinkingLoophole Tab | About Me Text area.
When the video is posting you'll see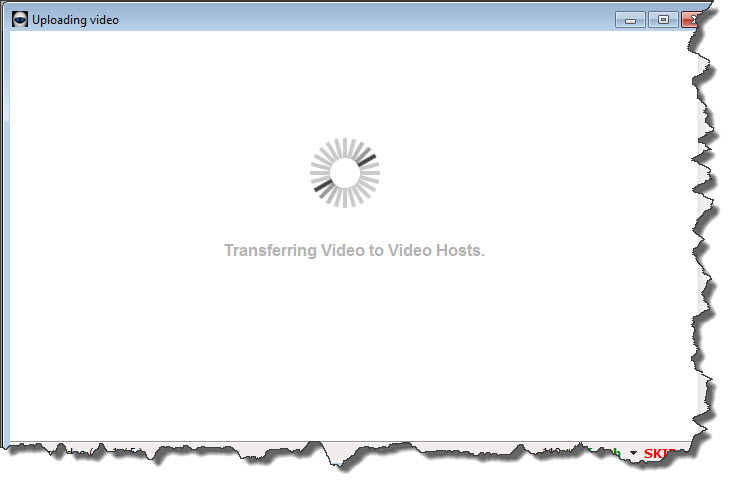 If you get a popup that says video contection error, you can skip or retry, try the retry option once. If it comes up again, go to skip etc.
This is our first release of the video distribution model.. so we expect some slight issues , but of course we'll address them as they appear etc. Its a massive investment in this and quite complex with a big team on board to create it.. Though in a short time I expect it to be very reliable.
The purpose of this module is to get our links on more social sites of course and give much more diversity to our linking projects and source some social traffic to the sites we are promoting.
Once we have ironed out any bugs in this system, find the RSS feeds on these sites and start promoting these to give these video accounts more link love and thus exposure and rankings in the serps for our chosen keywords.
3.
Other software enhancements and improvements.
Note:
New Amazon software update coming next week, with WP script etc
cheers
Pete